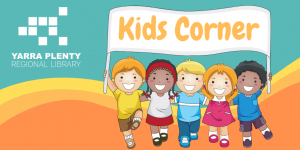 Kids Corner is the place to find fun activities to help fill the long days of lockdown.
Age Guide: primary school
Does your child love riddles and logic puzzles? This five-minute video and accompanying materials on The Kid Should See This is a great brain teaser. Head over to the website to watch (and check out some more riddles at the bottom of the page).
For more word fun, riddles and brain teasers try these items from our collection:
Belly Laugh Riddles and Puns for Kids

Mega Make and Do (and Stories Too!)

Kids Corner Archive
Previous Kids Corner activities...
Soccer skill video challenges from Play Football
Footy drawings with the Hermannsberg potters: illustrate your own and take the football quiz
Dirtgirl nature detective academy podcast: listen and learn about your natural environment
Tromaramix: an app from the NGV for kids to make their own stop motion animation
Oral histories: listen to stories of Aboriginal people from South Eastern Australia
Melbourne colouring pages: printable colouring pages of Melbourne landmarks
Write with Ursula: creative writing exercises and prompts by Children's Laureate Ursula Dubosarsky
Crosswords: printables to download or some to try online
ACMI Game Builder: learn how to create your own video games
Gratitude Tree: create an artwork for the whole family to contribute their moments of gratitude to
Penguins: live stream a Phillip Island burrow or watch video of penguin chicks at Sea Life Melbourne Aquarium
Jigsaws: DIY paper versions or digital jigsaws
Breakfast experiment: a science experiment with toast
Journey through an exploded star: an interactive simulation of the aftermath of a supernova explosion
Drag queen storytime: a drag queen reads picture book Julian is a Mermaid
Family first aid challenge: follow this guide so the whole family learn to prepare for emergencies
Make a mini-book: an online tutorial to help you create a perfect miniature book for toys or your own enjoyment
Dino explorations: take a 3D virtual tour of Melb Museum's dino gallery, watch a paleontologist talk about their work and spot the fake dinosaurs in an online quiz
Origami spinning tops: papercraft video tutorial
Zoo cam bingo: bingo sheets and other fun activities to do while watching live camera streams from the zoo
Home theatre: scripts to act out at home for kids or the whole family
Coding explained: what is it, learning basic skills and free online ways to learn and play
Video chat hacks: games and tricks to help kids connect with family and friends by video chat
Homemade instruments: make your own, watch videos of homemade instruments or see MSO performances for children
Spaghetti construction: video of an engineering-based challenge using spaghetti as a building material
Beautiful Oops: recycled craft and art ideas based on the picture book
Lego extension activities: inspiration to use Lego differently
Plastic pollution: watch documentary short films then tackle plastics in real life
Create a zoo animal enrichment activity
Muzafar's true story: online game/storytelling portal of a young refugee's journey to Australia
String art: get hands-on with hammers and string to make some art
Bugs in your backyard: create a pitfall trap and study crawly critters
Magic Treehouse games: history and geography online game based on the books
Grug: watch a book being read and join in the grugrobic workout
Choose your own adventure: an online game teaching ethics and critical thinking skills
Behind the News: kid friendly news broadcasts
Listen in to space: podcasts from NASA
Crack the code: cryptology and cipher online games
Digital etiquette: online safety and smart behaviour
Backyard scientist: Bush Blitz teach you to find flora and fauna