Always wanted to be creative but not sure how to start?
Get in touch with your passions and unlock your creativity at our upcoming events and workshops. 
Watsonia Library's Unlock Your Creativity program is a unique opportunity to get creative, boost your mental health, seek personal growth in a supportive environment, and meet like-minded members of your community.
Everyone can be creative - even you. So jump in, let go and explore! See all events here. 


Unlock Your Creativity with these great events: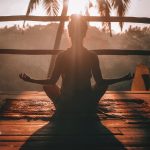 Yoga and Creativity
Suze Male from 42 Yoga will guide you through yoga poses and meditation to stimulate your creative flow.
Saturday 4 May, 2.00pm – 3.00pm
---
The Artists Way
Six sessions held fortnightly on a Tuesday starting 7 May. Must commit to all 6 sessions.
Katy Hood will lead you through a course to explore key practices to release your creative self based on the international bestseller
The Artists Way. 
Tuesday 7 & 21 May, 4 & 18 June, 2 & 16 July
7.00pm – 8.30pm
---
Creative Journaling
#bookstagram star
Tamsien West
will explore simple journaling techniques to build your abilities and confidence.
Saturday 11 May, 2.00pm – 4.00pm
---
Write Together

An open space for writers. No bookings necessary. Bring down your project and share in the creative energy. Writing prompts and activities available.
Tuesday 14 May, 2.00pm – 4.00pm
Wednesday 22 May, 6.00pm – 8.00pm
Friday 31 May, 10.00am – 1.00pm
---
Flash Fiction Workshop

Publisher and author of
A Superior Spectre, Angela Meyer
will introduce you to all things flash fiction! Experiment with character, conflict, place and mood in stories under 1000 words!
Sunday 26 May, 2.00pm – 3.30pm
---
Virtual Reality

Take your creativity to a whole new level. Try painting on a digital 3D canvas!
Two sessions available.
Friday 14 June, 11.00am – 12.30pm
Monday 17 June, 4.00pm – 5.00pm
---
Memoir: The Stories We Tell
In this workshop, writer Lyndel Caffrey will examine how we write our lives and explore writing techniques.
Saturday 15 June, 11.00am – 1.00pm
---
Find out more:
Blog: Top five tips to unlock your creativity
Reading list: Books to spark and grow creativity
Reading list: Jump start your writing habit 
Keep creating!
Watsonia Library is home to a Write & Publish Maker Space with lots of events and resources to support your creativity. Find ongoing writing groups and events here or pop into the library to find out more!