YRead is Yarra Plenty Regional Library's summer reading program for young people aged 12-24.
It encourages participants to read, write and learn during the school holidays. The program started on 1 December 2016 and finished on 1 February. This year 214 young people took part and 382 reading records were submitted. In total, 1146 books, ebooks, magazines, newspapers, blogs, reviews, graphic novels, comics, audio books and e-audiobooks were read or listened to over the holiday period.
The Major Prize - an iPad Air - was won by 12 year old Ivanhoe reader, Sean McConville. He received his prize from YPRL Chairperson Mayor Tom Melican at Ivanhoe Library on Thursday 2 March.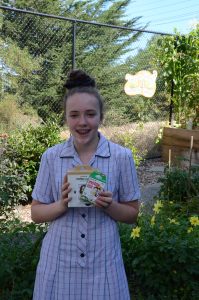 Laura Galati, aged 13 was the winner of the YRead One Sentence Story Competition. The Watsonia reader received an instax camera and film for her winning entry below.