Pokemon Go fever has hit everyone and your local libraries are no exception. What we love about Pokemon Go is that it encourages people to get out into the community.
Here is the lowdown on what you need to know about catching Pokemon, collecting items and battling Gyms at our libraries.
Lalor and Mill Park and Thomastown  Libraries are all Pokemon Gyms. You can battle the other trainers' Pokemon in them and take over the gym. Eltham library is described as a Mecca – although it's not a Gym or a Pokestop - but is surrounded by a Gym and Pokestops very close by.
At Mill Park the staff are on Team Valor and they love being challenged by the other teams and can answer any questions you may have about the game, check out their Facebook Page to find out more.
We also have heaps of Pokemon books, comic books and DVDs at all the library branches.
Whittlesea, Rosanna, Watsonia, Ivanhoe and Diamond Valley are all Pokestops. This means you can hang out, charge your phone, use the free wifi and collect items every ten minutes for as long as you like!
Some rare Pokemon found at our libraries include, a Kangaskhan (unique to Australia),  Snorlax and a Koffing.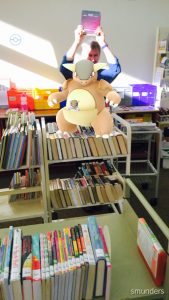 Pictured:  One of our staff found a rare Kanagaskhan in our returns room. Here is Colin about to hit the Pokemon!