Reading just ten minutes a day can instil a lifelong love of books and learning in young children. The more a child is read to in their preschool years, the better prepared they are when they start to learn how to read and write.
From 22 March 2017 – 2 April 2018, Yarra Plenty Regional Library will be participating in the Statewide 1000 Books Before School campaign. Registration is open to all YPRL library members, their babies and pre-school age children.
Sign up at your local YPRL branch and receive a special library bag, reading record and stickers. Place a sticker or mark the reading recordopens a new window for each book that you read with your child. After you read 100, 250, 500, 750 and 1000 books, visit the library to collect your milestone prizes.
It's easier than you might think to read 1000 books. If you read just three books a day, you can read more than 1000 books in a year. Repetition is great for developing early literacy skills, so if you read the same book more than once, you can count it each time you read.
Books you read at storytime, kinder, child-care or grandma's house count too!
The program will be launching on Wednesday 22 March 2017 (10.00 am – 11.30 am) at the Thomastown Libraryopens a new window at the Spots and Stripes Playfestopens a new window. Come along, meet Maisy Mouse and find out all about the program. You can even sign up on the day and get a free book. If you can't make it to Thomastown, visit your local branchopens a new window after 22 March.
FAQs: 
Do we need a library membershipopens a new window to join the program? Yes you do. Adult caregivers can use their own cards, or sign children or babies up to get their own very first membership card.
Do I have to do all of the reading? No. It's important for children to hear stories from a range of people. Any story they read can be counted. Don't forget to count the stories read at library storytimeopens a new window and if your child is in child care, you can ask the centre how many stories they read.
What if I read the same book twice?  Repetition is great so you can count the books as many times as you read them.
Do I get the same prize at each milestone?  No, there are different prizes. The first prize is a small packet of pencils and a colouring sheet.
How quickly should I be reading books? You can read
at your own pace. There is no set maximum or minimum number of books you can read in a day.
Do they need to be library books?  No, they don't need to be library books but we would encourage you to visit our libraries and find some new treasures to borrow.
Where do I get more reading lists? Either visit your local library or download the full set hereopens a new window.
What books should I read? You can read any books you and your child would like to read. You can also listen to audio books or read eBooks. Remember that each child is different.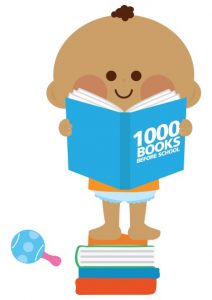 For some recommended reads, see:
First Books for Babies (0-9 months)opens a new window
5 Books to Calm a Crying Babyopens a new window
5 Books for your Dinosaur Mad Preschooleropens a new window
5 Books that Go Whizz Bang Whirrr Click Clankopens a new window
5 Alphabet Books that are actually FUNopens a new window
5 Rhyming Talesopens a new window
5 First Counting Booksopens a new window
5 Things that Go Brmmmmm Zoom Chuggachuggaopens a new window