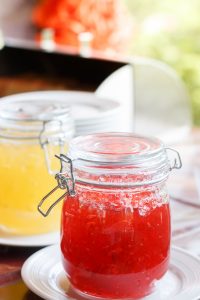 One of my favourite things about summer is the fruit: Berries, stone fruit, tropical fruit. Yum. Unfortunately for me, it's not readily available all year around. When it comes to the cooler months, one of my favourite things to do is make jam & curd. There's something really comforting about standing over a stove with a pot of hot fruit & sugar, stirring it and, in my case, crossing my fingers when I go to put it in the jars that it's the right consistency and will set without being too thick.
So, how do I combine a love of summer fruit with a love of jam making in autumn & winter? By taking a trip to the freezer aisle of my local supermarket. Most of the time, the frozen fruit section is packed with frozen summer fruit. Berries, peaches, bananas, tropical fruit mixes. You can even find frozen lemon & lime slices. All of which is perfectly acceptable to use when making preserves.
So, with a recipe in mind, I headed to my local Woolies and bought some sugar some, lemons, a couple of bags of frozen peaches & a bag of frozen raspberries, ready to make a batch of Peach & Raspberry Preserve Here are a few tips and tricks that I learnt from this jam:
If using frozen fruit, always allow it to fully defrost before using. I left mine in the fridge for 24 hours just to be sure. If you are defrosting it on the sink etc, the defrosting time will be shorter.
This recipe requires macerating the fruit in sugar & lemon juice overnight. If you're planning on making this preserve on a certain day, and you're using frozen fruit, take the defrosting time into account. For example, I planned to make my jam on a Saturday so took it out of the freezer & put it in the fridge on Thursday night.
This recipe tells you to use 900g of peaches and 900g of raspberries. I halved it and found that I had plenty of jam.
Maybe it was because I used frozen fruit and therefore the freezing & defrosting process drew out the liquid in the fruit, maybe it's because I'm a beginner, but I found that this took much longer to get to setting point then the 15 minutes recipe suggests. It took me about 45 minutes. I've since checked the consistency of the now jarred & cold jam & am very happy with it. (It could also be because I wanted it to be thicker than the recipe suggests.)
The recipe talks about how to check for setting point & using a cold plate. I put a small plate in the fridge (& as the cooking time lengthened & I got impatient) in the freezer to get it cold enough.
To sterilise my jars & lids, I washed them in hot soapy water & then boiled them for 15 minutes. I then spooned the hot jam into the hot jars.
When it comes to sealing the jars, I decided to take the easy route & use Fowlers Kleerview transparent preserve covers. You damped one side of the cover & put it tightly over the top of the jar, fastening it in place with a rubber band. As the jam & jar cools, the centre of the cover dips inwards, creating a seal. I've tried sealing with just the jar lids & aren't very good at it.
What drew me to this recipe was (obviously) the summer fruit. Tart raspberries, sweet peaches and zesty lemons all combine with sugar to make a jam that's full of fruit and not sickly sweet. It's thick enough to spread on bread or scones but could also be baked with. (Which is what I plan on doing with some of it.)
If I've managed to entice you to try making this jam yourself, it can be found on page 260 of:   Preserves. A Beginner's Guide To Making Jams & Jellies, Chutneys & Pickles, Sauces & Ketchups, Syrups And Alcoholic Sips by Jill Nice which you can download from Libby/Overdrive, one of our 2 e-book & e-audiobook providers.
For more information on YPRL's services and programs visit Your Library at Home.opens a new window
Kathryn, Yarra Plenty Regional Libraries.