8:00 PM  The reading hour blog is over for another year. Goodnight All and Happy Reading!
7:59 PM  Where's Wally? Going home with some books. Actually it's Minette. And the stripes are the wrong colour.
7:48 PM  Keen computer users and /or students wanting warmth and quiet such as Jarrod are still here working away in the library haven.
7:35 PM   The Spanish Conversation group led by Ottavio meet every Tuesday evening at 7:00 PM. They were very busy conversing but stopped for the photograph. De nada. 
Collins Spanish Dictionary Plus Grammar

7:22 PM  A shy budding scientist is studying Robert Winston's Home Lab. Full of amazing science experiments you can do at home. School holidays here we come!
7:10PM  Lots of people coming in to borrow tonight. Vicki is going home with a selection of large print and DVD's. Perhaps the "springish" weather is encouraging people to come out.
7:00 PM  The official Reading Hour is now over but there is still plenty happening in the library so we just keep going....
6:59 PM  Remember Mr B.? Last year he was reading Silicon Chip magazine - this year he's moved on to Popular Mechanics and preparing for the next great disaster.
6:47 PM  Another happy customer for a brand new book and an eagerly awaited hold. Go Tracey!
6:36 PM There's a Fox on the loose! No not really but Aditi is enjoying a story read to her by her mum.
6:30 PM  Charlie has collected her hold - last book in the series - brand new copy. Very excited.
6:25 PM  Steph one and Steph two studying hard and working the highlighter. We wish you every success.
6:15PM   Richard is keeping up with the news with The Australian.
6:07 PM  Christine is in the magazine area reading the latest Harpers Bazaar. 
6:00 PM  Staff have been busy unpacking lots of new books for you to read. Come on in.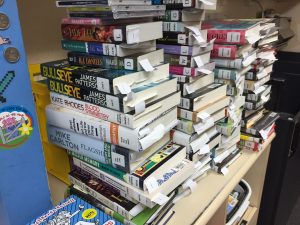 5:55 PM   Soon to begin!  If you are following this blog don't forget to refresh the screen to see the latest post.
Tuesday 16 August! The live blog will start here at 6:00 PM. Why don't you come into the library and share your reading or pop in to pick up something new.
At Ivanhoe Library we will be live blogging our users reading between 6:00PM and 8:00PM on Tuesday 16 August. It's only a week away tonight – why not come into the library that evening, make yourself comfortable and read?
The Reading Hour reminds parents and caregivers that reading together doesn't have to be a massive undertaking; it encourages them to read 'anytime, anywhere'. You can find out more about The Reading Hour here.opens a new window
If you can't come in keep an eye out for this blog where we will be posting regular updates.