Our branches may be closed, but we are still finding ways to serve you – from Virtual Storytimes to Click and Post and our informational services, internet technology has allowed us to continue to deliver our usual range of library services. 
Another service that we have taken online is our various Groups. Normally, our busy branches regularly play host to many social and educational groups. We are now running some of these groups as online meetings, and we hope that this will help existing group members to maintain normality in their routines, while offering new options for social contact for prospective members.
To join an online group, you will need an email address, and either a computer, mobile phone or tablet with internet access. All sessions are conducted using Microsoft Teams or Zoom. Bookings are required – only registered attendees will receive, by email, a weblink to the meeting. 
New members are welcome in all of our groups. Groups that are currently running include:

English Conversation Café Online
Weekly on Mondays, 2.00pm – 3.00pm
Join us in this relaxed group for a weekly chat.  Meet new people, and improve your conversational English!
Enquiries: Keryn


Weekly on Tuesday, 3.00pm – 4.00pm
The long-running French Conversation group at Ivanhoe Library has gone online! Practice your French in a friendly group of learners. This group is facilitated by a French teacher. Some knowledge of spoken French is needed, but all levels above beginner are welcome.
Enquiries: Alan

Stitch This: "Quarantine Quilting" craft group
Weekly on Wednesdays, 2.00pm -3.00pm
Not just for quilters!  Meet others and work on your knitting, crochet or patchwork project while picking up new skills.
Enquiries: Coralie


Discussions After Dark
Monthly on a Thursday, 7.00pm - 8.00pm
Part of the successful Libraries After Dark program hosted by Mill Park Library. Enjoy a monthly chat on current topics, lifestyle and reminiscences. Topics are listed on the booking page.   
Enquiries: Jack

Night Writers Group Online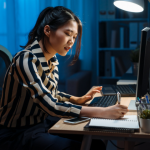 Monthly on a Thursday, 6.00pm – 7.30pm

Day Writers Group Online
Monthly on a Friday, 11.00am – 12.00noon
YPRL offers both a daytime and evening writing group. Join us in creating a network of writing friends who can offer support, advice and a fresh approach to writing and publishing. You can bring along some writing that you are working on, or challenge yourself by writing to an assigned topic.
Enquiries: Lynne

Karen Seligman, Learning Coordinator, Yarra Plenty Regional Library