Mental Health Awareness Week aims to activate, educate and engage Victorians around mental health and related issues. It takes place Saturday 5th October 2019 - Saturday 12th October 2019 and the theme in Victoria is Mental Health: What do you know?
Yarra Plenty Regional Library will be running a series of events for our community to enjoy. See more details below.
How to Stay Sane
6.30pm Tuesday 8 October
Eltham Library
Research shows that the top three personal concerns for teens in Australia are coping with stress, school problems and mental health. How can families work together to help teens who are facing these challenges? Join writer Catherine Deveny and psychiatrist Dr Steve Ellen, co-authors of Mental: Everything you never knew you needed to know about mental health for a robust discussion about understanding the issues and finding help. See more details here.
Creative Journaling
2.00pm Saturday 12 October
Eltham Library
Journaling can clear your head, help you get in touch with your feelings, and nurture your creativity. Join #bookstagram star Tamsien West (@BabblingBooks) to learn how to start and keep a journal of your very own. BYO notebook and pen! See more details here.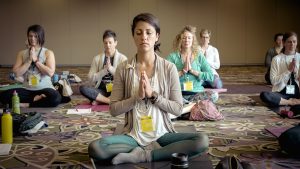 Other Activities
Being active should be part of all our wellness routines. You may be interested in sessions such as Laughter Yoga, our regular Heart Foundation Walking Group, or the gentle pace of Wellness Meditation.
To find connection and enjoy a local social outing you can try our facilitated Point of View discussion group, participate in Chinese Social Club, drop in to Yack and Yarn for some craft and chats, or come along to Blokes, Books and Free Lunch.