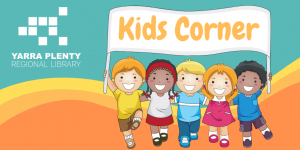 Kids Corner is the place to find fun activities to help fill the long days of lockdown.
Age Guide: all ages

We want to help kids stay in touch with family members and their friends, but sticking kids in front of a video camera and expecting them to be able to connect and carry on a conversation can be stressful for all involved. Here are some wonderful ideas (and instructions!) for games to play over video calls by Tip Junkie.
For more ways to help kids explore ideas of family and connection see these items from our collection:
Kids Corner Archive
Previous Kids Corner activities...
Backyard scientist: Bush Blitz teach you to find flora and fauna
Digital etiquette: online safety and smart behaviour
Crack the code: cryptology and cipher online games
Listen in to space: podcasts from NASA
Behind the News: kid friendly news broadcasts
Choose your own adventure: an online game teaching ethics and critical thinking skills
Grug: watch a book being read and join in the grugrobic workout
Magic Treehouse games: history and geography online game based on the books
Bugs in your backyard: create a pitfall trap and study crawly critters
String art: get hands-on with hammers and string to make some art
Muzafar's true story: online game/storytelling portal of a young refugee's journey to Australia
Create a zoo animal enrichment activity
Plastic pollution: watch documentary short films then tackle plastics in real life
Lego extension activities: inspiration to use Lego differently
Beautiful Oops: recycled craft and art ideas based on the picture book
Spaghetti construction: video of an engineering-based challenge using spaghetti as a building material
Homemade instruments: make your own, watch videos of homemade instruments or see MSO performances for children