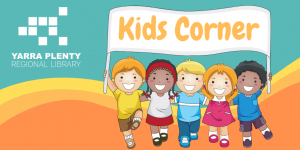 Kids Corner is the place to find fun activities to help fill the long days of lockdown.
Age Guide: preschool and primary school
Bundoora Homestead Arts Centre in Bundoora commissioned some gorgeous illustrations of iconic Melbourne locations by Caitlin Murray to use as downloadable colouring-in sheets for colouring fans of all ages.
Download all seven on the BHAC website.
Kids Corner Archive
Previous Kids Corner activities...
Write with Ursula: creative writing exercises and prompts by Children's Laureate Ursula Dubosarsky
Crosswords: printables to download or some to try online
ACMI Game Builder: learn how to create your own video games
Gratitude Tree: create an artwork for the whole family to contribute their moments of gratitude to
Penguins: live stream a Phillip Island burrow or watch video of penguin chicks at Sea Life Melbourne Aquarium
Jigsaws: DIY paper versions or digital jigsaws
Breakfast experiment: a science experiment with toast
Journey through an exploded star: an interactive simulation of the aftermath of a supernova explosion
Drag queen storytime: a drag queen reads picture book Julian is a Mermaid
Family first aid challenge: follow this guide so the whole family learn to prepare for emergencies
Make a mini-book: an online tutorial to help you create a perfect miniature book for toys or your own enjoyment
Dino explorations: take a 3D virtual tour of Melb Museum's dino gallery, watch a paleontologist talk about their work and spot the fake dinosaurs in an online quiz
Origami spinning tops: papercraft video tutorial
Zoo cam bingo: bingo sheets and other fun activities to do while watching live camera streams from the zoo
Home theatre: scripts to act out at home for kids or the whole family
Coding explained: what is it, learning basic skills and free online ways to learn and play
Video chat hacks: games and tricks to help kids connect with family and friends by video chat
Homemade instruments: make your own, watch videos of homemade instruments or see MSO performances for children
Spaghetti construction: video of an engineering-based challenge using spaghetti as a building material
Beautiful Oops: recycled craft and art ideas based on the picture book
Lego extension activities: inspiration to use Lego differently
Plastic pollution: watch documentary short films then tackle plastics in real life
Create a zoo animal enrichment activity
Muzafar's true story: online game/storytelling portal of a young refugee's journey to Australia
String art: get hands-on with hammers and string to make some art
Bugs in your backyard: create a pitfall trap and study crawly critters
Magic Treehouse games: history and geography online game based on the books
Grug: watch a book being read and join in the grugrobic workout
Choose your own adventure: an online game teaching ethics and critical thinking skills
Behind the News: kid friendly news broadcasts
Listen in to space: podcasts from NASA
Crack the code: cryptology and cipher online games
Digital etiquette: online safety and smart behaviour
Backyard scientist: Bush Blitz teach you to find flora and fauna