7:00PM
We are at the end - good night all and happy reading. Annie's taking The complete Jack the Ripper and venturing out into the streets. Oh dear, how brave. Take care.
The Complete Jack the Ripper

6:54PM
A bit of recreational reading for Kristy. Katie Fforde's A vintage wedding.
A Vintage Wedding

6:42PM
Pat's taking home The Job by Lee Goldberg and Janet Evanovich. Enjoy!
The Job

6:32 PM
The quiet study area on level three is popular this time of year with students studying hard. Annabel is reading Restless dead : encounters between the living and the dead in Ancient  Greece  - and  it's  an Interlibrary Loan!  Hmm, dense text.
6:19 PM
Karen is enjoying Cadfael on her eReader in the warm comfort of the library.
6:08PM
Mr B. is reading Silicon Chip with his bionic eyes!
6:00PM
Mishka the reading bear who usual comes in for bedtime storytime has come in to Ivanhoe Library to kick-off The Reading Hour. Mishka is enjoying A library book for bear by Bonny Becker. It's  full of good advice for a library loving bear.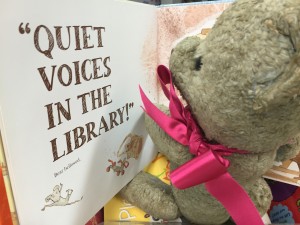 A Library Book for Bear

The Reading Hour 2015 is nearly here. At Ivanhoe Library we will be celebrating The Reading Hour with a "Live Blog" from 6:00pm to 7:00pm on Tuesday 18 August.
Come into the Ivanhoe Library and let us know what you are reading.